Fashion Alley / Zone de Mode - Chiana

First outfit seen when she comes on Moya, a long pleated coat with a white collar.

DURKA RETURNS - 115
A CLOCKWORK NEBARI - 218
LIARS, GUNS AND MONEY - SUCH A SIMPLE PLAN - 219

Costume à son arrivée, un long manteau cintré, gris foncé, avec un col blanc.

Le retour de Durka (1.15)
Les colliers de contrôle (2.18)
Les armes, l'argent et les mensonges (2.19)
---

| | |
| --- | --- |
| Underneath the coat will be the costume she wore for a very long time: leather boots and bracelets, tight fitting pants and top and a leather bolero tied in front. | Sous le manteau, le costume qu'elle portera longtemps, cuir et tissu texturé moulant avec un boléro de cuir attaché devant. |
---

It looks like the coat she wore in DURKA RETURNS - 115 with an added printed shawl looking like fake fur.

NERVE - 119
DIE ME, DICHOTOMY - 222

Ce manteau ressemble à celui qu'elle portait à son arrivée, avec l'ajout d'un châle d'un imprimé de fausse fourrure, même manteau porté au dernier épisode de la 2e saison.

Le greffon (1.19)
Fatale dichotomie (2.22)
---

| | |
| --- | --- |
| A tech. jumpsuit with the logo on the back. | Une combinaison de technicien avec le sigle dans le dos. |
---

| | |
| --- | --- |
| A circular poncho with a velvet chenille collar over her coat. It might also be a shag shawl over a poncho. We never see them separately though. | Un poncho avec un col de chenille-velours par-dessus son manteau. Il est possible que ce soit un foulard shag par-dessus un poncho mais on ne les voit pas séparément. |
---

The whole costume is made from leather and is tied with leather lacing, with a brown hose underneath, hiding thighs and belly.

Le costume est entièrement fait de cuir lacé avec une combinaison brune en-dessous qui cache les cuisses et le ventre.

Le pouvoir de la pierre (2.03)
---

For this ep. only. plain fabric with sewing stitches showing and dot-texturised sleeves,

HOME ON THE REMAINS - 207

Pour cet épisode seulement, un tissu mat avec les coutures apparentes et des manches texturises à picots.
---

Wedding outfit : The dress is red, and so is the trim of the vest bit itself is really dark pink printed in red with big red beads on the sleeves.

LOOK AT THE PRINCESS, I DO - 212

La robe est rouge vif, ainsi que le col de la veste mais celle-ci est d'un rose profond avec un imprimé rouge et des perles rouges sur les manches.

Je pense donc j'agis (2.12)
---

White night robe with soft candlewicking texture, satin trim and wide sleeves.

LOOK AT THE PRINCESS, THE MALTESE CRICHTON - 213

Robe de chambre blanche en mousseline texturisée comme de la chenille-mèche, avec bordures de satin et marches très larges.
---

Dream Chianas: Groupie and schoolgirl sadist.

WON'T GET FOOLED AGAIN - 215

Fausses Chiana: Fan d'astronaute et écolière sadiste.
---

Same dotted leotard as in HOME ON THE REMAINS but more leathery "striped" outfit over it, with metal clasps for the top.

from : A CLOCKWORK NEBARI - 218
to : EAT ME - 306

Même costume que dans Les colliers de contrôle (2.18) avec un "dessus" plus cuir à lanières cousues et attaches de métal.

de l'épisode 218 à 306
---

Two tone strips of bronze-grey leather make the top and pants, with raised dots and seams, and metal clasps for the top. The body leotard is less tight than previous ones and has no prints.

from : THANKS FOR SHARING - 307
to : MINI - 502

Lanières de cuir deux tons pour la veste et les pantalons, avec points surélevés et attaches de métal pour le haut. Le léotard est moins serré que le précédent et sans imprimé.

De l'épisode 307 à la mini.
---

Long sleeve Lycra black short top, red plastic skirt with large white belt and matching red thick hose. Black feathers in her hair complete this ensemble. Bare belly with belly botton showing, you don't see that often.

A DOG WITH TWO BONES - 322

Un haut très court, à manches longues en Lycra noir; une jupe en plastique rouge vif avec collants épais de la même teinte et une large ceinture blanche qui complète cet ensemble. Voir le ventre nu et le nombril, c'est rare avec Chiana (2e fois seulement!).

Episode 322 seulement
---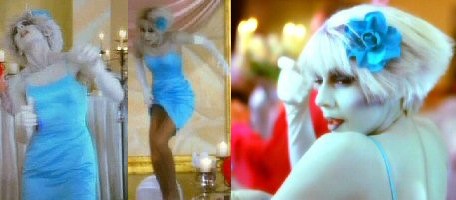 Blue dress with rattail straps, long white gloves and "flesh" coloured pantyhose. No jewelry, only a fabric flower in her hair matching the dress' colour.

A DOG WITH TWO BONES - 322

Rove turquoise avec brettelles en queues de rat, gants blancs et collants couleur "chair". Pas de bijoux, seulement une fleur en tissu dans les cheveux, tout comme dans l'épisode prévédent.

Episode 322.
---

| | |
| --- | --- |
| Terra cotta coloured high leather boots, yellow and white striped leggings, blue padded vest tied with leather strips, white shirt, rusty coloured gloves and a pointed fool's hat | Cuissardes cuivres, collants rayés jaune et blanc, veste moletonnées bleu clair chemise blanche, gants de cuir rouille et un chapeau de fou du roi sans grelot. |
---

| | |
| --- | --- |
| Very 70's polyester striped short dress with ruffled collar on elastic, orange hose, bright red flat shoes and short gloves. | Courte robe polyester très années 70, avec col volant sur élastique, et manches longues, collants orange, souliers et gants courts rouge vif. |
---

Jeans, red T and short black bolero. Short red gloves too. Footwear was not seen.

TERRA FIRMA - 413
A CONSTELLATION OF DOUBTS - 417

Jeans, Y shirt rouge et bolero noir, avec des gants courts d'un rouge vif; bottes ou souliers? on ne le voit pas.
---

| | |
| --- | --- |
| Red bikini top tied at the nape of the neck, and pink skirt or wrapped towel. | Haut de bikini rouge, noué autour du cou, jupe rose ou serviette de ratine nouée en jupe. |
---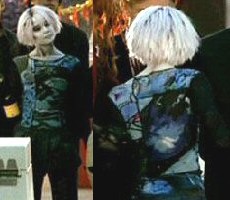 | | |
| --- | --- |
| Black leggings, black mini-skirt and printed T-shirt. | Jambières noires, mini-jupe noire et gilet sport imprimé. |
---

Green pants and coordinated belt, matching bolero, both with black seams, and a black latex top.

BRING HOME THE BEACON - 416

Pantalons verts; boléro et ceinture assortis, les deux avec coutures décoratives noires et un corsage noir en latex.

Episode 416
---

Open-heart top, tied at the back of the neck, very short fringy skirt and pointy high heels, all in black.

A CONSTELLATION OF DOUBTS - 417

Corsage au cou à décolleté coeur, jupe dentelle à frange très courte et escarpins, tout en noir. Episode 417.
---

Images on TV. Looks like a skirt, not a towel like I first tought.

A CONSTELLATION OF DOUBTS - 417

Images sur moniteur, semble être une jupe sur élastique montée plus haut, pas une serviette comme j'avais pensé au début.

Episode 417
---
DISCLAIMER

FARSCAPE and all related characters and elements are trademarks of The Jim Henson Company, Hallmark Entertainment, Nine Network (Australia) and the Sci-Fi Channel.

"A Taste for Blue" is a fan run site, done strictly for fun and is in no way affiliated with any of the above.
I don't have anything to sell or exchange. I don't get paid for it and none of the advertisement on this site comes from me, but from the free webspace provider. I don't get any benefits from it.

COPYRIGHT

FARSCAPE et tous ses personnages et éléments sont la propriété de la Jim Henson Company, Hallmark Entertainment, Nine Network (Australie) et le Sci-Fi Channel.

"A Taste for Blue" est un site de fan, sans aucun lien avec les organismes mentionnés ci-haut. Je n'ai rien à vendre ni à échanger. Les publicités proviennent uniquement de l'hébergeur gratuit. Je n'en retire aucun profit.
(C) Bluey / Siubhan 2022